About Master J Moreno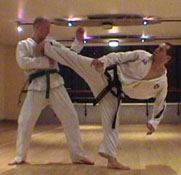 Master J Moreno started training Moo-Duk Kwan Taekwon-Do in 1973 in Mexico City under the tutelage of Grand Master Dai-Won Moon and full contact world champion, Master Ramiro Guzman, participating in national tournaments as part of the junior team.
After moving to the UK he decided to give his Taekwon-Do carreer a radical twist by switching to ITF style.
In November 2016 he was promoted to Master VII Degree by GM Hector Marano and GM Lan at the 114th IIC held in Paris.
He has taken courses and seminars with the late Grand Master General Choi-Hong Hi and the late Master Tran as well as well as other Masters and Grand Masters such as GM W Bos, GM H Marano, GM Lan, GM Trajtenberg, GM Ree-Ki Ha, GM O Ellis, Master W Van de Mortel, Master J Jedut, to name a few.
His teaching carreer started in 1994 as an assistant instructor, opening his own club in 1997. His clubs are part of ITF England and are affiliated to the International Taekwon-Do Federation. He is fully commited to teaching the original form of the Korean Art of Self Defence.